Corporate Wine Gifts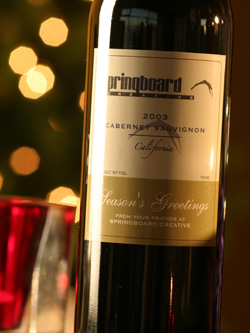 Create a truly unique experience for your clients by giving them private labeled Napa Valley wine. Corporate wine gifts can be highly personalized by designing labels that show:
Your corporate message and logo on the bottle.
Your clients name on the bottle, e.g. "Smith Family Vineyards." A unique way to recognize an important client, where with each bottle they enjoy, you and your company are remembered.
Your corporate logo on the bottle for special events and corporate dinners.
Celebrating a holiday, anniversary or milestone event.
Your gift of private labeled Napa Valley wine can be delivered in a one, two or three bottle custom wood gift box with your corporate logo burned into the box. Wood gift boxes are often saved by clients, which creates a truly lasting impression of your company.
As a "thank you," I bought wine for each of my clients and put their name on the label. The feedback has been outstanding. They thought it was very creative and unique. I know every time they drink a bottle from their private label case, they will think of us.
- Travis Trask